What should it look like in the future and what functions should modern architecture designed for modern living in a city like Bratislava have?
Sebastien: Architecture has always been and is a reflection of the society in which it is built and always presents a mirror to its progress and the way people live. We live in a time of dynamic technological development, with people today leading lives that completely differ from the way they lived just 10 or 20 years ago. In the future, builders will have to take this into consideration and introduce modern technologies into buildings and transport, so that the people who live there want to stay in that city.
Juraj: Modern housing should also be low-maintenance, and a modern house should offer technologies that make life easier for its residents. With every advance in society people increasingly demand smart gadgets and simple things. They value their time much more than ever before. This must be reflected in housing, so that the functions and services of the house or apartment save residents' time. For example, small apartments for rent must include laundries in the building, and there should also be internet cafes there.
In your opinion, will vertical housing be a solution to the growing urban population in our country as well?
Sebastien: Absolutely. There is less and less land available, it is not possible to build in many places, and there are more and more people working in cities. The solution is to build upward. Bratislava is more progressive in this than Prague and fortunately allows this type of architecture. And that is also one of the reasons why I personally enjoy Bratislava and thanks to that we can make more interesting architecture here.
Juraj: I agree. One of the biggest advantages of vertical housing is the proximity of the city centre, and thus the vicinity of culture, restaurants and services that must otherwise come from more distant city quarters. Vertical urbanisation allows people to make better use of their living time and live a more efficient life. Were we not to allow vertical construction, we would have to expand into the countryside, take over the Bratislava's surroundings, and build suburbs.
Which residential zones in Bratislava or Prague do you consider to be successful from an urban point of view?
Juraj: Those created via the "revitalisation" of abandoned parts of the city, where something new was built. Industrial areas such as former factories, river ports, transport ports. In Prague, for example, it is Marína Holešovice or the new quarter of Smíchov City, which is being built on the site of a former freight railway station. In Bratislava, the winter port will be a topic for the future. The most interesting will be the filling in spots in cities and industrial areas, the brownfields. These are brown places on city maps with huge potential due to their location near the centre with no constructions planned yet.
Sebastien: Definitely Bratislava's downtown. Until recently, this was not a very attractive area, today it houses two huge shopping centres, a project by Zaha Hadid, B7 Tower, Sky Park Offices, or the Amazon building (Park One), currently the best office buildings in Central Europe. I think that this area will be unique in the whole of Central Europe. Similar areas exist in other metropolises, such as Warsaw. However, construction there takes longer and the high-rise buildings in the centre mainly serve for administrative purposes. Bratislava downtown, on the other hand, has a large share of housing, thus this area will live from morning to evening, not only during the day.
How can the pursuit of preservation and modern design support each other in contemporary urban construction?
Sebastien: That's what we are seeing in the new Bratislava downtown, where it is possible to build in a modern style. It is also close to the Old Town and beautifully connects with the original architecture of the city. Prague is more conservative in this aspect, as is Paris, where you can build modern high-rise buildings only in the La Défence district. Places with older architecture have their own charm and for many people life in them is nice, but old places do not allow you to develop and live modern. Personally, if I lived in Bratislava, I would like to live in the state-of-the-art area. It has a different buzz, a different inspiration, it's very dynamic there. I live in Prague, I have my family here, I love it here, but sometimes I miss the dynamism of the environment.
Juraj: There are simple methods that will allow the preservation of listed buildings during construction as part of wider areas, where such historic buildings are the bearers of the relationship to the past and cultural heritage. Here, consistent work from urban designers is most important; it is they who must understand what values are historically interesting and what can connect these with modern construction. In Prague, for example, we have the Vysočanský mlýn project, where we linked to the industrial past of the place and preserved the structure of public spaces, streets, and squares, and built new houses in the spirit of the original urbanism. It is about the consistency of urban designers to perceive and understand the value of the particular place, whether historical, architectural, urban and to understand the atmosphere of those things and be able to recast it into new architecture. Architects have been trying to understand this all their lives.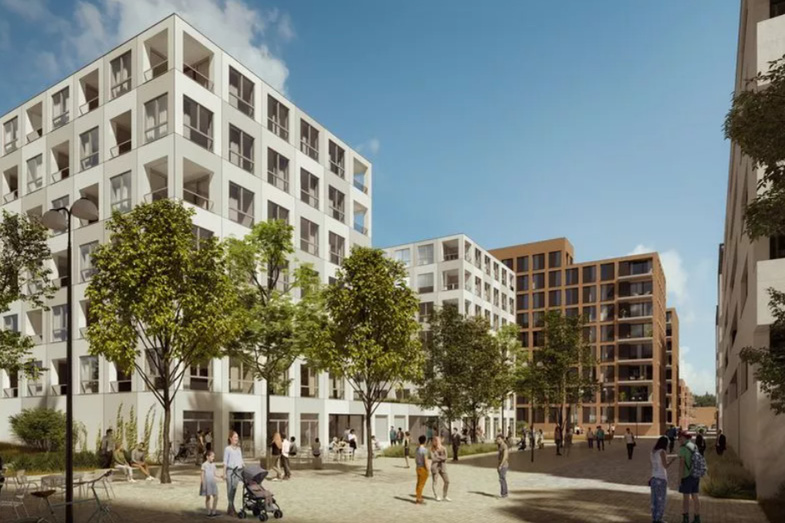 Development project Vysočanský mlýn
What is your favourite city project that you created. How did you manage to reconcile public and private space in these projects?
Sebastien: In Opava, we renovated the old Breda Brewery, which we turned into a beautiful shopping centre. A very interesting point was how we linked the historical architecture of the brewery part to the state-of-the-art commercial part and that it fulfilled its purpose. A number of people from the city were involved in the project, and we had to convince various movements and civic associations. In the end, compromise won. Today we see that the shopping centre has brought new life to the spot, meeting the needs of local residents and Opava town centre. I personally am also looking forward to Metropolis, which will soon grow in Bratislava.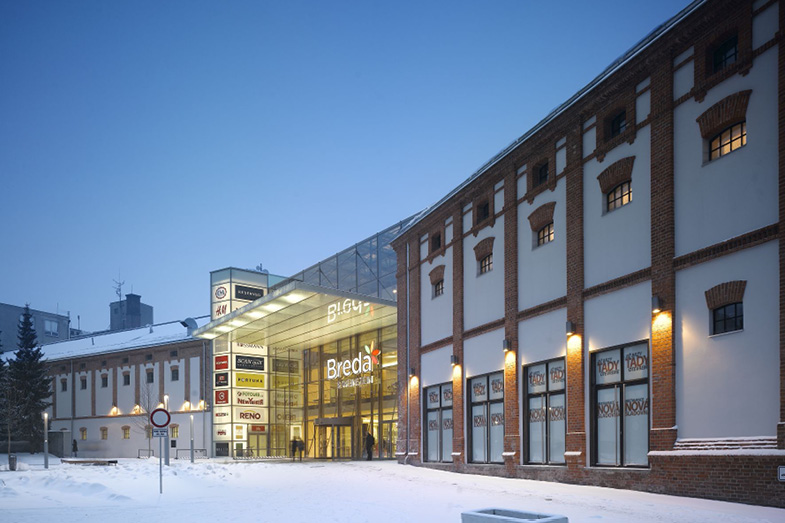 Shopping centre Breda in Opava
Juraj: Another project worthy of attention is the Na Karmeli Education Centre in the centre of Mladá Boleslav. It is an interesting combination of historic and modern architecture. We not only created a new building here, but we redesigned the whole structure of the place. We defended our intention by arguing that Ancient Rome was also rebuilt under Michelangelo, antiquity was demolished and replaced by the Renaissance. And time has shown that today, 14 years after its completion, the city has embraced the centre. The new urbanism I brought there replaced the old one. Walking along those terraces overlooking the river today, I feel that it was a great idea. New poetry was created here, merging into the old one.
What inspired you in other global metropolises?
Juraj: I like investment architecture. I follow the development of urban districts abroad and I admire when anyone takes a risk and gives rise to a meaningful overlap of private and public urbanism. That's why I like, for instance, the HafenCity Hamburg project, where the city revitalised the entire port and built a new city district on the spot of the former port. The city invited many architects to form a new block structure and create an area that no longer serves its original purpose but has the same gist.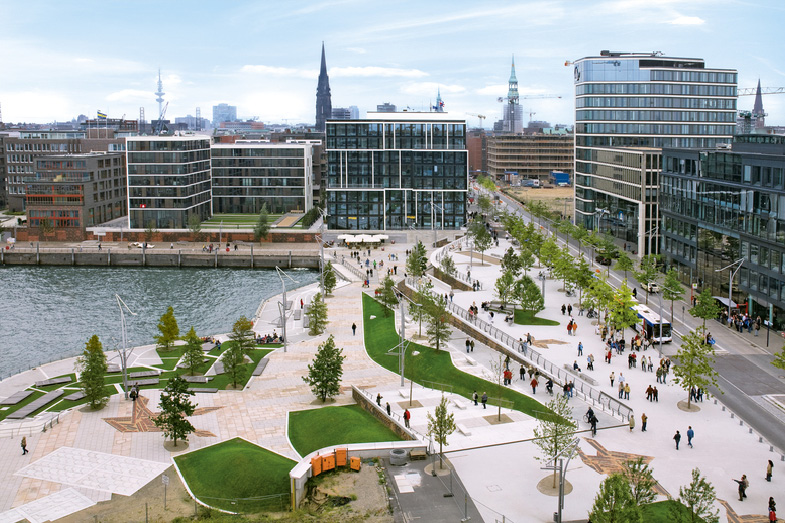 New city district HafenCity Hamburg
Of those progressive new modern quarters, I like most the modern residential area of Aspern Seestadt which was created in the place of the former airport, in the eastern part of Vienna. It was created as a satellite, with an extended subway line running to the centre of Vienna. There is a lot of greenery, bike paths, small shops. Modern technologies, typical for smart cities, were used here. It is difficult to create a quality satellite that is full of life.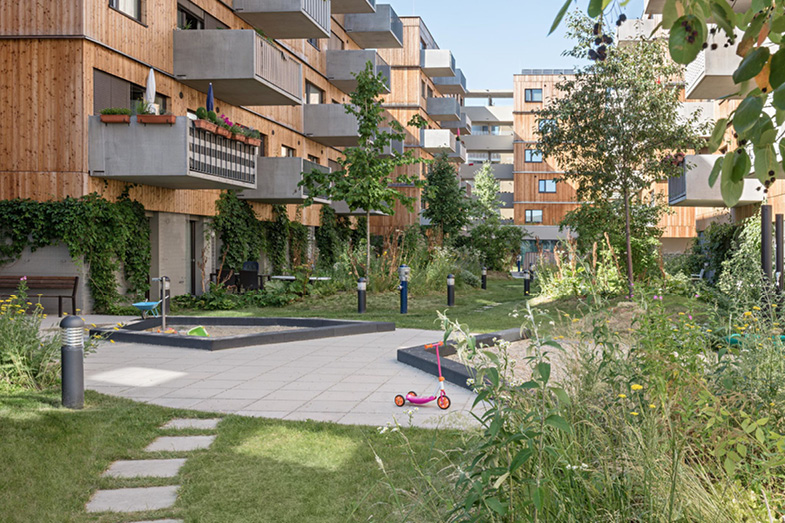 Residential area Aspern Seestadt, Vienna
Then there is an interesting shopping centre project in the centre of Munich, Fünf Höfen, where the developer created a completely new structure in the middle of the city and opened the originally closed-off block of the old town with a set of courtyards and passages with various artistic elements, thus connecting the new with the old. When you walk through that part as a tourist, you won't even notice that you have moved from old houses to new ones. In this way, the atmosphere and mood are beautifully created there.
How can an architect and a developer contribute with their projects to making the city a better place not just for living but also for life?
Juraj: The developer and architect work best together when they are like one soul. This means that an enlightened developer and an enlightened architect form one team. That enlightenment lies in the developer, who is aware of what he is selling. It is not a square meter, but a value. I mean a bakery just outside the entrance, around the corner from a café or bookshop. While the additional features will not make the developer money directly, they will help sell the main product better. Today's developers in the Czech Republic and Slovakia already understand the impact of the functions and functionality of architecture on business as such. And I know that if a developer is connected to the place where he is building, it will definitely turn out well.
Sebastien: I agree with Juraj, and I would also like to add that it's not just about the developer and the architect. It is important that the people responsible for the city's development, and who deal with its concept and urbanism, have a good idea of the future appearance of the city in 10 to 20 years' time. They have to think about the traffic situation in order to live efficiently in the city.
How will Metropolis be unique compared to other projects in the downtown?
Sebastien: The emerging architecture of projects in the Bratislava downtown is very correct. These are the works of international architects whose projects are extremely successful. Residents who already live or work there are very satisfied. I am convinced that the same will be said of Metropolis. I have no doubt that our architect Juraj Sonlajtner has created an iconic building. For us, Metropolis is already successful in that it enjoys great interest from those interested in living in this project, as well as interest from the public. Metropolis will bring high-standard urban housing to the city centre and contribute to the value of the entire area.
Juraj: In this location, HB Reavis has created a high-quality architecture with its "low blocks" project, which represents a cultivated and classy simplicity. And that is very difficult to achieve today. I think Metropolis will continue to build on this simplicity. Most projects are something like a cry of a provincial feeling of inferiority. As one of the few projects in the zone, Metropolis will have a simple and representative sophistication, and the sales confirm this. There is no need to underestimate or persuade people, they already feel the added value from the available visualisations. The task of us architects and developers is to codify these values into the architecture. In the case of Metropolis, we have clearly succeeded.