Downtown enthusiasm
You authored the design for the Metropolis project, which is currently under construction in our capital. Is Bratislava ready for such architecture?
Absolutely. Bratislava is considerably more daring than Prague for instance. Particularly as to how the construction is done here, as to the authorities' procedures, what your neighbours allow you in the design of a project, and so on.
The project was launched in 2008, with its details being revealed in 2017. Were you involved from the outset?
In 2010, the investor announced an architectural contest with the participation of a number of studios. And ours won. Afterwards, we waited for a while as the site was under a temporary construction closure. This was another reason for the project's delayed implementation.
What inspired you in this design?
I was already excited by the downtown idea as such. It is not common to have brownfield sites available in city centres with old factories you can just tear down and build something new instead. I also communicated with the authors of the original regulatory plan. Their vision of a downtown with tall buildings and life bustling in the streets below was spot on.
After studying the regulation plan more closely, we learnt that we cannot go as high as the surrounding buildings, and that we also have a slightly more demanding plot – meaning its size and what can be done there.
Essentially, we modelled our future at that time – we put down a rough sketch of the downtown, indicating, for example, Sky Park, which had not yet been built at that time. And when the shape of the letter M "appeared" on the paper – the future silhouette of Metropolis – we knew that this was exactly what we were looking for.
The way we thought about it was that every building in the downtown should be original, but at the same time its architecture should not scream out. Compared to other landmarks, Metropolis is of a smaller height, but the building is designed to be distinctive, symmetrical and distinctive.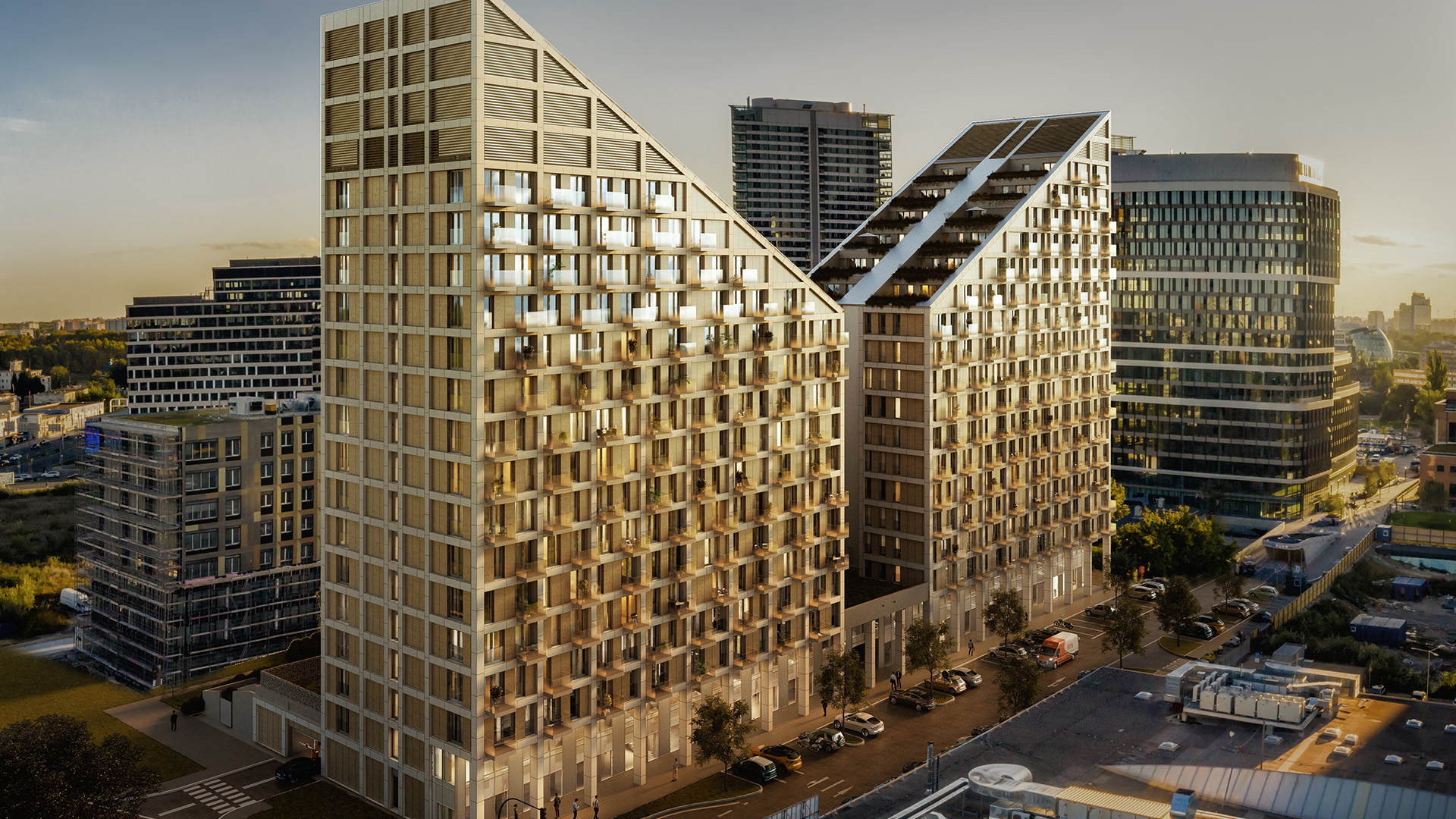 What was the most challenging part of the whole process?
The surrounding conditions. We had to maintain the distance from the neighbouring buildings and design project in accordance with the lighting standards, bearing in mind that there are high-rise buildings all around. Quite a large construction capacity was permitted for a relatively small plot of land of 7 000 square metres. We endeavoured to combine the potential of the project with all the limitations we encountered and at the same time with the plans intended for the neighbouring developers.
Music only as a hobby
Today you live in Prague, where you also studied. Why did you pick architecture?
It was basically a coincidence. I dreamt of flying fighter jets, but my father very sensibly told me that discipline and order were not quite my forte. However, he advised me that I might like architecture – it is technical in nature, but also contains art, which I have always been close to. So I applied to university.
You also play music... didn't you want to go down this path?
When I was 19, I interrupted my studies in architecture for a while and devoted my time to playing the guitar and jazz. Music meant greater freedom for me, it was drawn to it, and I almost completely abandoned architecture for it. However, my English teacher, Canadian saxophonist Floyd Williamson, gave me an excellent advice at the time – music is an excellent hobby, but the worst breadwinner. And this was advice from a man who had had concerts all over the world, he had worked in music his whole life.
Now I have a rock band that is becoming popular in the Czech Republic. In private though I also like to play jazz or alternative music. I've been playing the guitar since my childhood; it's been my lifelong theme.
What was your first encounter?
When I was five years old, I found a guitar in my grandfather's wardrobe. Its strings were rusty, but I was fascinated. I brought it home with me, and kept playing it all the time, sometimes my parents had to take it away from me. That passion for the guitar has stayed with me to this day.
Miracles in every project
What is the hardest thing about being an architect?
Complexity. Because, in addition to being an architect, you are also a manager, technician, constructor, psychologist, politician, lawyer, organiser, mediator... And in the evening, when you are on your own, you must sit down to the drawing board and draw something good.
Which of your projects is close to your heart?
My favourite one is, I guess, the University Campus in Mladá Boleslav, where there has been a lot of history. Demolition works took a substantial part in the project and we succeeded in creating a new part of the town. Nevertheless, I also like Metropolis, I see it as my homecoming.
Is there any type of project you would like to work on in the future?
I have reached a stage in my life where I can see the wonder in every project, no matter its size. For example, we are now designing a kindergarten, and I am enjoying myself very much; I put as much energy and commitment into it as I would into any other project.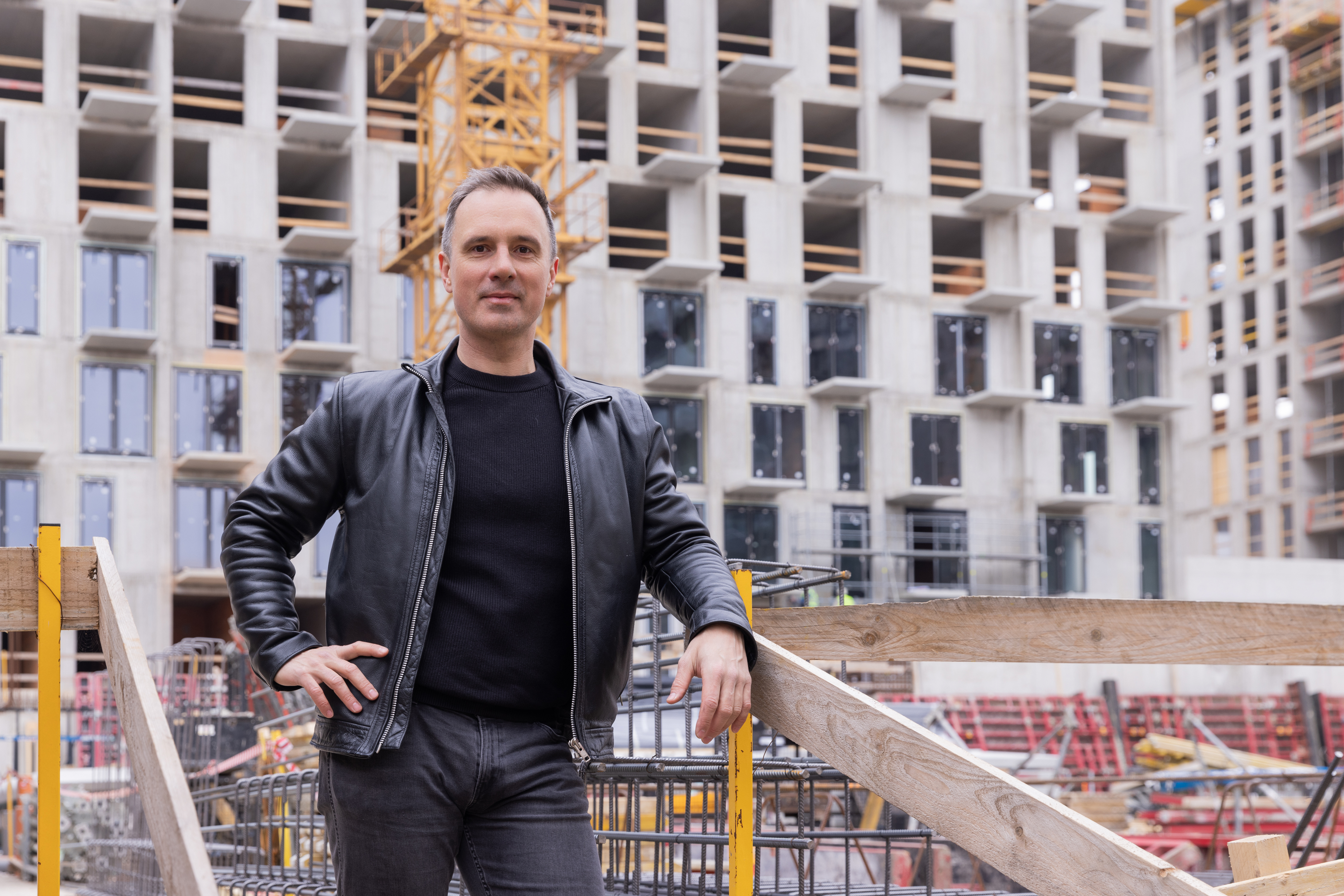 Slovaks are braver
What else are you currently working on?
We are planning a new urban district in Prague, which is subject to a change in the zoning plan. We are preparing two residential projects there, and another district which will be the location for rental apartments for city employees, for example for police officers or firefighters. Including the aforementioned kindergarten.
How do you find building in Bratislava and in Prague?
I have to admit that in terms of the authorities, I see Bratislava as more advanced than Prague. Discussions in Bratislava move more quickly towards a common goal, with city districts also being involved in the process.
In Prague, the problem is that the legislative processes for authorising building construction are complex. And the power of the expert office, which is supposed to talk about how the city is to look like, is much weaker there. At the same time, it has become dominated by a kind of 'folklore' of one wishing nothing good for anyone else; everyone appeals against any individual decisions. The society-wide consensus is that anyone building is an enemy. This notion is not so widely held in Bratislava.
Why is that so?
Czechs are more conservative, mistrustful... After all, tearing down buildings and building them has been taking place all the time. In my opinion, Slovaks are more open and ready to discuss.
An inspiring world
You are an avid traveller. Which place is your favourite?
I like cities, even my wife and kids do – we're townies. Our holidays are also planned around this idea.
I like to draw inspiration abroad this way, seeing what the competition is doing, what the architects are better or worse in... I believe travelling is important for urban planners and architects. Personally, my favourite place is New York, with Manhattan holding a special place in heart.
Why?
It was in New York that I came to a major city and for the first time I didn't feel like a foreigner. I'd never experienced that anywhere else. It was fascinating for me.
What cities could we in Slovakia be inspired by?
I was pleasantly surprised by Warsaw, where a few years ago they were already doing what we were just coming to. Well-designed neighbourhoods, parterres, pulsating with life... I was astonished by how both a post-communist country and a city could develop freely and sensibly.
We shouldn't compare ourselves with Western or Asian countries, but rather look closer to our geopolitical home. Budapest and Vienna are also cities of interest.
Author: Forbes