Mint Investments Group has successful track record stretching back over 20 years in asset management, property management and development. It has implemented a number of successful development projects in the Czech Republic and Slovakia. In the heart of the modern downtown, it is building the attractive Metropolis project, which has been attracting public attention from the very beginning. In an interview with one of its five partners, Sebastien Dejanovski talks about the principles and values the Group has long adhered to and reflected into its projects.
How do you integrate the sustainability theme into your company and business?
Our business is our hobby. We truly enjoy our work, and therefore we are interested in everything related to it. You cannot do business today without addressing sustainability. It is a driving force and challenge for modern societies. It is a development that should be actively approached by all on a societal level. For us at Mint Investments, it is not just an ideology. We have an interest in being able to deliver the sustainability development we have set out over the medium and long term; at the same time it also makes sense to us economically.
With the Metropolis project, which we are building in the centre of the new Bratislava downtown, we knew from the beginning that the clients' demands and expectations for housing in this location would be high. It was important to us not only that the project look attractive visually, but also that it would be beneficial in terms of its environmental and economic point in order to save resources and energy. It was therefore designed from the outset to meet the requirements of the energy certificate to the highest possible level of A0 savings. It will contain a high-quality ventilated facade, triple-glazed windows, high-quality recuperation or modern ceiling heating and cooling, which will increase the living comfort of the future user. Living here will be economically and environmentally efficient, and environmentally friendly – which is one of the core principles of sustainable development.
How do you approach social sustainability issues within your company?
At Mint Investments, we support social equality. When someone applies to join our team, it is not important whether they are male or female. For us, the important factor is whether they are the best in the particular field and whether they can identify with our company culture.
We also support education-focused projects because we see the future and long-term benefit in them. We keep in touch with the University of Economics because we want to actively promote real-estate education. We are planning to establish cooperation with the ISTI Institute of Strategic Investment, which is part of the University of Economics and is student-oriented. We have had many years' experience in this area, so we definitely want to continue in this path.
My family and I support the construction of kindergartens in Serbia. Many children there still lack access to education, which is so important at their early age for their healthy development. I am personally interested in this issue, as my father is Serbian, and my mother is French. In terms of charity, promoting education makes the most sense to me.
The challenge of a contemporary builder is to master not only the environmental, but also the social function of buildings in the urban space, which should bring people together and support social life. How did you approach this with Metropolis?
We never view our projects as mere residential areas. We see them as creating physical places where social life takes place, and we want people to feel good in them and enjoy meeting there. Metropolis will have a large, spacious lobby and a business parterre on the first floors, where people will spend time together drinking good coffee or using various services.
We paid special attention to the park, not just in terms of the designed greenery, but the overall rendering. For the relaxation zone of Metropolis, we have selected original multi-purpose objects that are visually appealing as objects of art, but at the same time create a functional space for various activities – games, movement, relaxation both for children and adults. It is very important for us to create a space for people that will support the community's development. At the same time, we cared greatly that the Metropolis park be naturally integrated into the city, be linked to pavements, cycle paths and other nearby centres . Its design gives the impression of a private space, but at the same time it is also slightly accessible from the street.
All in all, Metropolis is set in the middle of modern downtown life, so people living here will benefit from everything that surrounds them.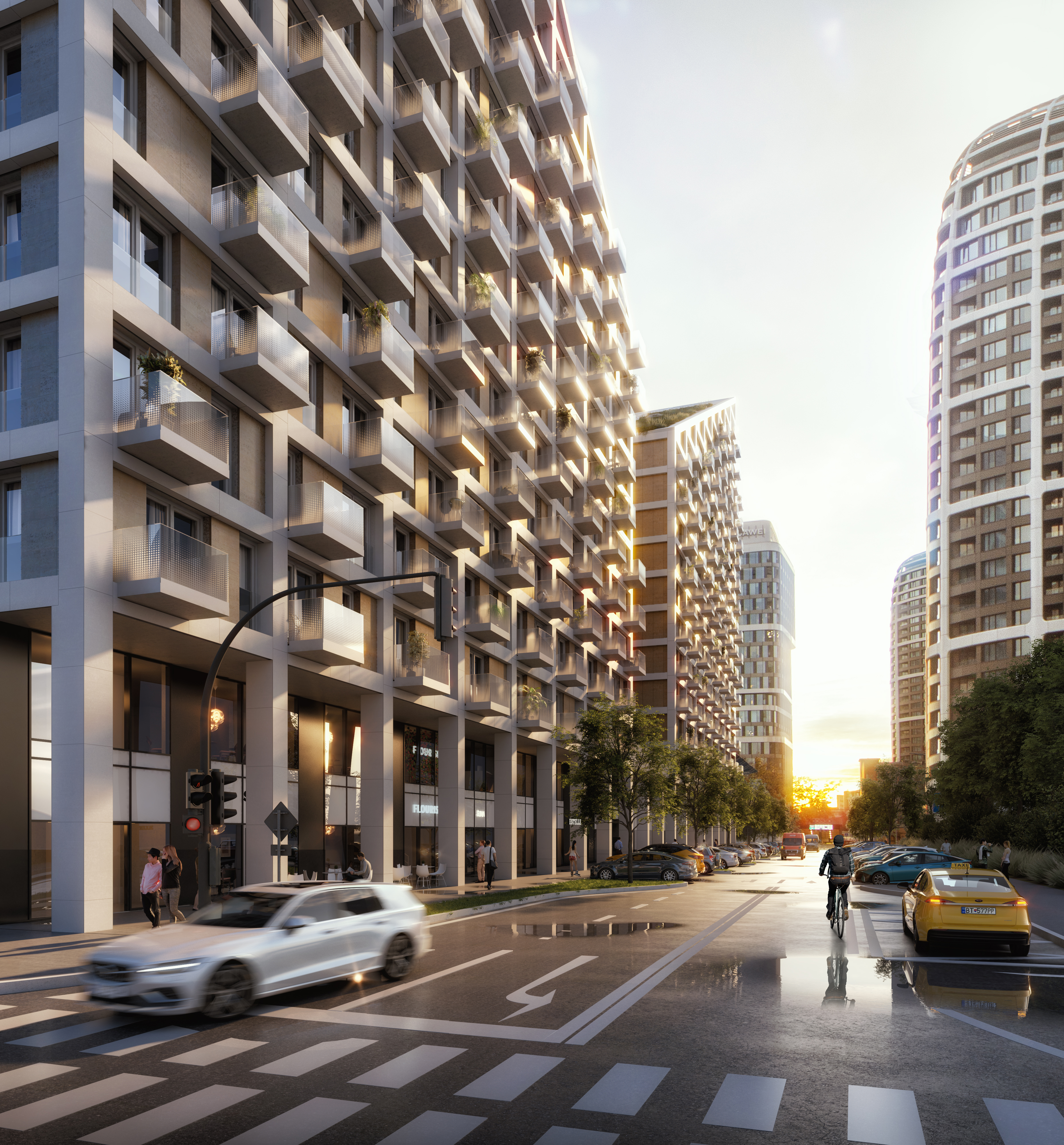 Multiple developers are currently introducing an inflation clause into their contracts. Not you. What made you decide this way?
Our business model, which has always been based on a fair approach toward clients. We have not introduced an inflation clause in any of our projects, and neither are we planning to do so. Today, people are trying to protect their money from inflation also by investing in real estate. So it is absurd to deny them this protection. We value the trust of our clients; we value the fact that they are opting for our project. And to earn more money this way? We don't work like that.
What helps you most in making the right decisions at Mint?
Many of our decisions come from in-depth analysis. Every day we analyse and evaluate everything we do. And as it is a team effort, we talk about the risks not only with shareholders, but with the whole team. We are not only concerned with what is happening today but are thinking ahead towards what is to happen tomorrow. The recent three years have seen huge changes affecting our business. We must constantly anticipate and be able to make managerial decisions even in times of crisis.
For example, when we launched the sale of the Metropolis apartments, four months after the pandemic started. Not everyone had the courage to do so. In retrospect, we still think it was the right decision. In a crisis, the prize is taken not by the smartest players, but by those who are flexible and aware of what the times are about to bring.
How do you personally manage to promote sustainability at home, in your private life?
It's the same at home; we treat nature and its resources responsibly. Our house, where I live with my family, is built to save resources as much as possible; it contains heat pumps drawing cold up from the ground and minimising heat loss. Thanks to new heating systems and applications, heating in the house is optimised. We are trying not to use heating unnecessarily where it is not necessary, which is also healthier. Even the two degrees of heat reduced on our thermostat mean a piece of green sustainability. And as for waste sorting, we introduced that in our home long before it became a standard in our country.