Miriam, David, what makes Metropolis special for you and what is your role in the project?
Miriam: I am on the project as a civil engineer and my background is monolithic, masonry and other rough construction work. Structurally, the shape of the new building and the upper frame part of the structure, as well as the facade, are attractive for sure. We are building in a new Bratislava quarter that is already very busy, which in itself is a challenge for us in terms of construction and logistics management. It's demanding in terms of coordination, so every activity has to be well planned in advance. But we have created a system that works, and the site is keeping up a smooth pace.
David: I work on the site as an electrical engineer and take care of all electrical wiring, low-current wiring, electric fire alarm and HSP and anything electricity-related. I find the design of this new building exceptional. The managers from the Düsseldorf's Takenaka headquarters come see us; they speak with respect and great admiration for the construction. Downtown is an excellent vibrant location, ideal for living and working. The developers have set a completely different level of standard here, both in terms of the architecture and materials used. Metropolis elevates it even further by offering apartments for sale with superior features and top-quality technology that will make life for residents easier on a daily basis.
Can you describe some of them? In what regard are they unique?
Miriam: For instance, the apartment partitions are made of high-quality ceramic bricks Porotherm. It's pure natural material; the project has no poor-quality materials. Triple-glazed insulated windows are installed to minimize noise and heat loss.
David: All Metropolis apartments will be equipped with individual recuperation of the highest German quality, as well as ceiling radiant heating and cooling, providing its residents with thermal comfort throughout the year. It includes designer wiring that I'm sure will be loved. All devices are also highly energy efficient.
From previous articles, we have learned that Metropolis is the first European residential new-build of this scale to be constructed by Takenaka in a single phase. What does this mean for you?
Miriam: Takenaka is one of 5 Japanese largest construction companies and has built many residential buildings in Japan, mostly high-rise buildings. In Europe, and especially in Slovakia, the company has traditionally been involved in industrial construction. Thanks to the efforts of the Slovak branch CEO, Petr Urválek, Takenaka has begun to work on residential buildings in our country as well. One of them is the Nová Cvernovka project, which is similar to the Metropolis project in terms of the volume of work but is being built in stages. Metropolis will be built in 1 phase, which is unique for Takenaka. For this reason, it is also receiving great attention from the headquarters in Tokyo. Last October, the site was personally visited by Mr Toichi Takenaka, the 17th successor of the family business. He liked it and acknowledged our work. It was an honour for our whole team.
David: This type of construction is a pilot for Takenaka, and we are the "pioneer team" ensuring its implementation in Slovakia.
The Japanese management is known for its management control system – "Kaizen". It is based on philosophical teaching, with "kai" standing for "change" and "zen" meaning "for the better". How is it applied in practice here?
Miriam: All construction details, design solutions and technological procedures must be properly documented and made available on the server to Japanese colleagues who are remotely controlling the construction. In addition to the site log, we also keep daily reports – the 'check sheets'. We make them for every single element on the site, whether it is reinforcement within reinforced concrete elements or the masonry partitions of apartments. This allows anyone at Takenaka's Japanese headquarters to see what is currently happening on the project, ask questions or consult.
This way, there is also control going on with other Takenaka branches across Europe. We can consult with them on many solutions, which we consider to be a very positive aspect. It's not just about control; sharing experience is important. Every new or unconventional technology used at any site is detailed in a report that is accessible on the international server for all branches. It is great that we can make use of the international perspective and experience from other countries in the construction of Metropolis. At the same time, we, too, are sharing our solutions – for example, the ceiling cooling and heating that is being installing in Metropolis.
David: Takenaka's superior control is what significantly sets the company apart from its competitors. The Japanese are also known for their constant drive to improve processes and solutions. Our people are expected to be proactive in coming up with new designs and ideas, which they must defend in front of their colleagues in Japan. The aim of this system of work is to make the final solution a notch better than originally planned.
Are these reports prepared in some special software?
David: We use a special application to record the progress of the construction. We mainly focus on the places of the greatest emphasis. For example, in the wiring area, we make sure that the wiring is correct, that the protective elements are functional, that the electronic fire alarm system is working throughout the building, and that all switches are placed logically to meet the needs of the users. Records are available in the application for up to five years, every detail is archived. There's no plastering it over J. Anyone can look at them and say – this was a job well done.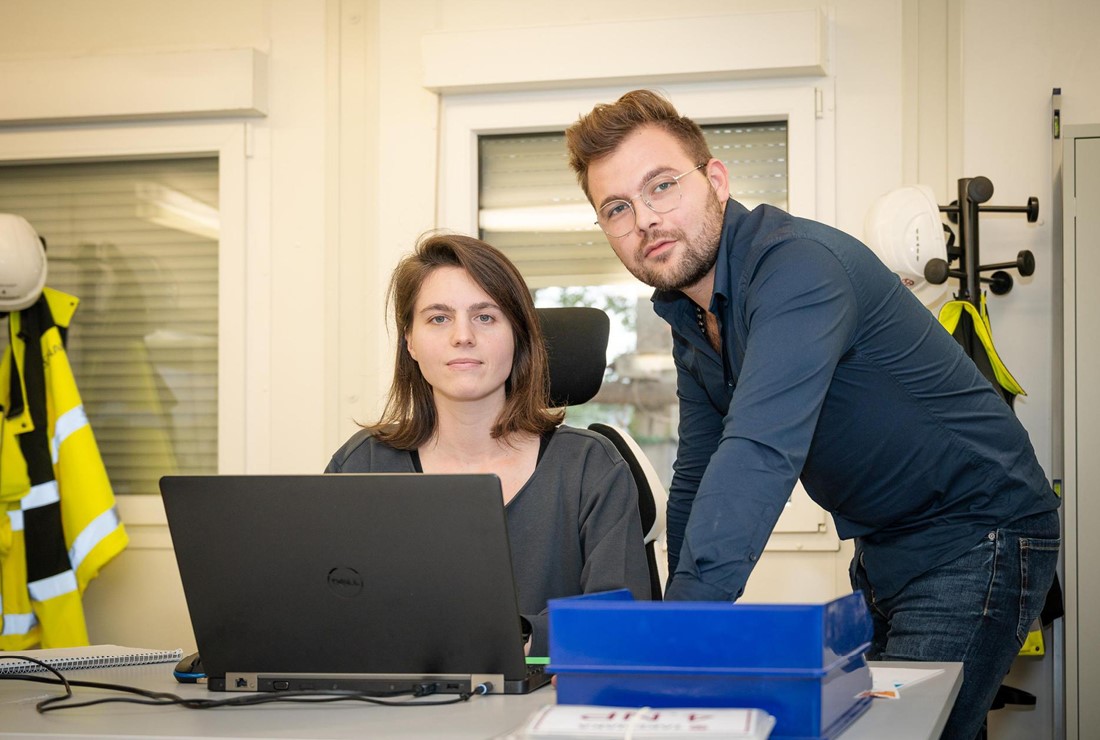 It must be time consuming to document and photograph every single detail.
David: Yes, it is. But when you understand the seriousness of these efforts, how much the Japanese care about making Metropolis perfect in every detail, at the end of the day you don't think how much time you have spent documenting it. At the end of the day, the important thing is that you know it was worth it and you see your own progress here.
Have you encountered this type of management or control in Slovakia in the past?
Miriam: The majority of Slovak and international construction businesses operating in our country do not have in place such a high level and form of control. They don't have other specialists checking the work after other workers. The Japanese check both the quality on site and the project documentation. They thoroughly vet and approve the businesses we can work with. Not just anyone can get to the site. We choose the best of the best.
Which suppliers do you work with at Metropolis?
Miriam: For the monoliths and masonry work, we chose the Moniers Group. Thanks to them Metropolis has very good monoliths. Not only are they functional, but our concretes also look above average. For electrical work we have BK, a. s., Piešťany, which has a wealth of experience from Bratislava construction sites. Klimak is an excellent HVAC company, they have a lot of experience and great references.
David: Our monoliths were also praised by Sebastien Dejanovski, the project developer from Mint Investments. They have built many nice buildings in the Czech Republic, so the praise coming from them makes us truly happy.
How do you see the issue of environmentally-friendly buildings?
David: We are trying to make use of everything present at the construction site. We also follow internal instructions from Japan, on site or in the office. We digitize as much as possible and use paper as little as possible.
Miriam: We recycle the leftover wood as it is now worth its weight in gold. Left over concrete is used for recast parts directly on site. In the winter we made a construction pathway and a panel under the construction lift. We make use of everything that comes in here.
Metropolis has its technical model apartment. What purpose did you prepare it for?
Miriam: The model apartment allows us to coordinate all professions and fine-tune everything to the greatest detail. We can try out and fine-tune all possible cases, design solutions and work procedures there. We want to be efficient so that no unnecessary repairs and imperfections arise and so that construction does not lose its momentum.
David: It was Miriam's idea to create a model apartment and the team unanimously agreed. We test out techniques and tweak out any details here to get it perfect in every single apartment unit. First-class equipment requires first-class installation. Quality preparation saves us daily a lot of trouble and time and at the end of the day our clients will be happy.
What is now happening at the site and what's next for you?
Miriam: Monolithic construction is steadily advancing, as we reach new heights and add more floors. We have just completed the 18th above-ground floor in tower B. We are gradually building apartment walls in both towers up to the 13th above-ground floor and installing windows on both towers up to the 13th above-ground floor. When the masonry for apartments is completed, the mechanical and electrical systems are installed by qualified professionals and we prepare the floors for plastering, which is now complete up to the fourth floor. Anhydrite screed has been laid on the first three apartment floors; it is a modern material that will enable residents to furnish their apartments on a smooth, flat surface. And so we advance, floor by floor, week by week.
David: It is a living construction; every day is different. We are working hard on the underground floors, where as professionals we have most technology, it's here where the "brain and heart" of our installation is located. My mechanics will give it healthy set of "lungs"😊. In addition to the window installations, we are seamlessly 'dressing' Metropolis in a stylish facade.
Has there been something you have done extremely well, something that has made you proud about the project so far?
Miriam: For our entire team, we are most proud of the way we handled the challenging logistics of this project in between other construction in progress so that everything runs smoothly and flawlessly. Consequently, we are advancing according to plan and every month Metropolis goes up by one floor.
David: I am glad that we are successfully bringing in the construction and the new downtown the Japanese spirit of Takenaka. We've created a great atmosphere here where everyone helps each other. Each supplier is willing to share their space, materials, and manpower. It's needed here. Metropolis brings us together. For us, this project is something that is with us day and night. Literally.